DIN 17100 St37-3N Carbon and low alloy steel, St37-3N steel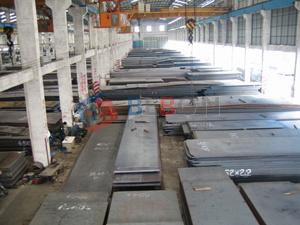 ST37-3N steel are Non-alloy steel for riveting, bolting, welding purposes. Structural Steels like ST37-2,ST37-3N
are used in many applications, combining good welding properties with guaranteed strengths.
There are many grades and the uses varied including civil and industrial engineering.
High strength low alloys have replaced many structural steels where weight reduction is important (e.g. automotive) but with guaranteed strengths.
Steel Category: Carbon and low alloy steel
Steel standard: DIN 17100
Steel grade: DIN 17100 St37-3N
DIN 17100 St37-3N steel chemical analysis -%
C: 0.17% Mn: 1.40% P: 0.045% S: 0.045%
St37-3N carbon and low alloy steel Mechanical properties:
Yield Strength ReH:235—225
Tensile Strength Rm:360—510 340—470
Fracture Elongation[%]:16—24
Notch Impact:27J
DIN 17100 St37-3N steel Dimension
Thickness: 5-300mm Width: 1500-3500mm Length: 3000-12000mm
If you have any requires, please contact us!